Planning to Win Big @ No Deposit Mobile Casinos? Really? — ROFL!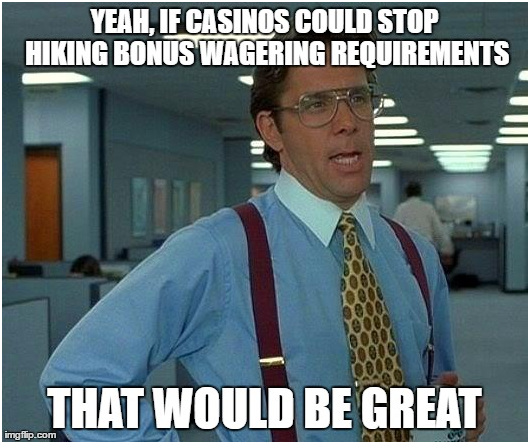 (Posted by pepe on the Slotrunners forum)
Don't worry — not everyone gets every meme's joke, like the one above that mixes the cult classic Office Space with complaining about no deposit bonuses.
It's like the way not everybody understands that the mobile casino no deposit bonus ploy is usually balderdash — once you squint at its fine print and find a lot of red tape. Many players wish, in retrospect, that they had just begun using their own cash from the get-go, rather than getting mixed up in the 'free' bonus racket.
Realities and Downsides of No-Deposit Bonuses
Whether this news about no-deposit bonuses comes to you as a shock, or, you basically were aware of their pitfalls, we're here to give a frank overview of this wily practice. It's found at the majority of no deposit mobile casino sites. Here are the two main things involved:
A no deposit bonus deal gives a new player a certain amount of free cash or free spins to use before depositing real funds. At best, it is a way to familiarise with a new casino risk-free. Sounds great, huh? ...


Yeah, but almost always restrictions such as wagering requirements are lurking in the Ts&Cs. The bottom line is that casinos tend to have hidden ways to avoid paying out winnings to players who use no-deposit bonus dosh.
Basically what we have here is one of those you get what you pay for situations. But in the case of no deposit or 'free' bonuses, most players get even less than nothing. That's because they waste loads of time trying to satisfy wagering requirements only to discover it's next to impossible to bag any winnings booty within rule deadlines.
But First, WHY Do Casinos Give Bonuses?!
Okay, we should probably set the stage about so-called no deposit bonuses and the wagering requirements that are commonly tied to them. Briefly we will explain why they're offered at all.
Like we said above, casinos resist suffering losses that result from their grandiose no-deposit bonus claims and promises (sign-up specials). Some casinos give out millions of these freebies, so they must reduce their liability and restrict vulnerability to fraud on a grand scale. We can all probably understand the logic of that, right?
But why do they resort to promising the moon, in the first place? Here are the main reasons:
Casinos must vy strongly for new members
Free bonuses attract casual and newbie players
Casinos' bonuses expose them to fraudsters
Players can try games without losing cash